Botskis - It's an (Exclusive) Celebration
Joe Davies are very pleased to have been appointed as the UK's Exclus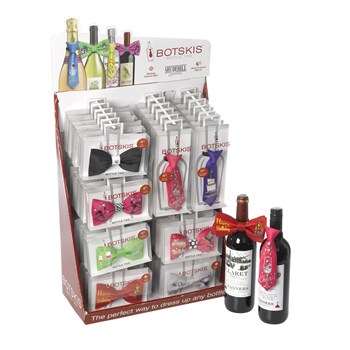 ive Distributor of Botski's.   Fun ways to celebrate a special event, Botskis are quirky little bow ties and neckties that will decorate any bottle.   Added to this, Botskis will 'light-up' or play a selection of familiar party songs.
Great impulse purchases, Botskis are conveniently displayed in an attractive counter display unit, which is ordered in the starter pack.   The CDU can hold up to 8 different ties and can be replenished using our 'Little & Often' ordering system.
Also available are the new Christmas Botskis, introduced specially for the fast approaching festive season so we highly recommend you order soon:- for full details call our sales staff on 0161 975 6300 or please register your interest in becoming a customer here.