Kids love Nuzzles!© UK launch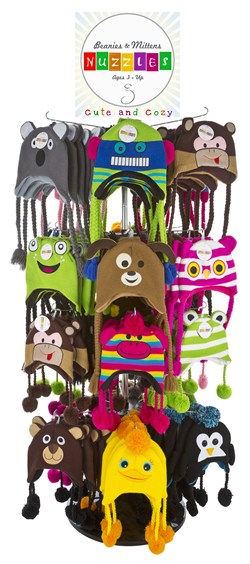 Joe Davies are proud to announce they have been appointed as the exclusive distributor of Nuzzles!© in the UK. These Beanie hats and mittens have been a massive success in Australia and look set to be a winner in the UK with high initial pre-sales.
Nuzzles!© are a colourful combination of Beanie hat and mittens with cute character designs that will instantly appeal to children. With their cheeky animal features, Nuzzles!© are fun, adorable and the perfect way to keep children warm and cozy. The Nuzzles!© range includes 12 bright designs and are available in two sizes for years 3 - 5 and 5 - 9. The entire collection can be purchased on a spinner that holds comfortably 144 sets; repeats are in small quantities by size and design. From experience Joe Davies report high repeat rates when sold on the spinner and the display looks stunning.
Nuzzles!© are 100% acrylic and fully lined in 100% polyester, guaranteed to keep kids warm. They are soft, comfy and are machine washable, but don't worry, they won't shrink!
Paul Hooker, Commercial Director at Joe Davies reports "Nuzzles!© are the ideal kids winter gift and a great impulse buy. We expect high demand for Nuzzles!© and strongly recommend ordering early". Nuzzles!© are distributed exclusively throughout the UK by Joe Davies, with all items available through their trademark "Little and Often" ordering system with a minimum order value of just £100 and free delivery.
Nuzzles! will debut at Harrogate Home & Gift on Stand CH10 at the Cairn Hotel.
For all enquiries regarding Nuzzles© please contact Joe Davies on: 0161 975 6300