Official UK distributors of snoozies!®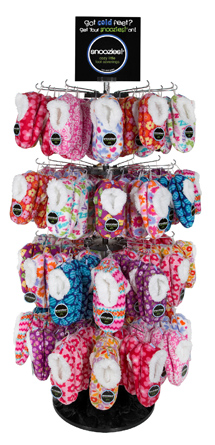 Joe Davies have been appointed as the official and only UK distributor of the snoozies!® range of foot coverings. snoozies!® are a gift phenomenon sweeping across the US, Canada and Australia; a cross between slippers and socks they have become affectionately known as cozy little foot coverings.
Each pair is machine washable, can be tumble dried, won't shrink and come in an exciting range of 12 assorted designs across four sizes. They are completely unique in construction, patent protected and feature a double Sherpa fleece lining with non-slip soles.
Marshall Bank, owner of the snoozies brand in the US reports "if snoozies sell in the UK market the same as they have in the US, Canada and Australia then Joe Davies will have a full time job keeping up with repeats. We appointed Joe Davies as our distributor due to their great service record and their reputation with independent gifting retailers, which is where snoozies really perform."
When asked why they are so successful Marshall goes on to add "research shows that 95% of women worldwide suffer from cold feet, snoozies are not only a huge gift line they are massive self-purchase, once a customer puts their hand inside they are hooked."
The snoozies!® collection, consisting of both adult and baby sizes will be distributed throughout the UK exclusively by Joe Davies, with all the items available through Joe Davies trademark "Little & Often" ordering system.
Initial results have been more than encouraging. Paul Hooker, Commercial Director at Joe Davies reports "snoozies have been hugely successful, with the initial order effectively selling out before Harrogate. Fortunately we have managed to increase our orders massively, they really could be shaping up to be one of our best ever lines."
For all enquiries regarding snoozies!® please contact Joe Davies on:
0161 975 6300